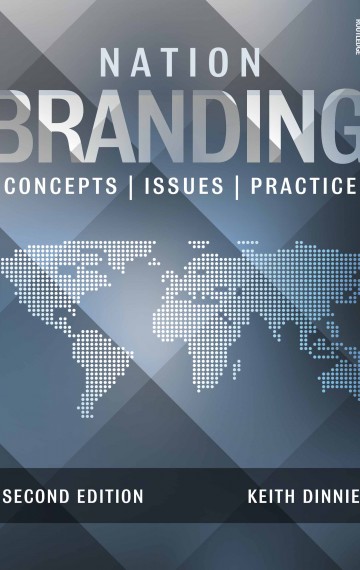 Publisher:

Routledge

Edition:

Second

ISBN:

978-1138775848

Published:

August 26, 2015
Buy here
The second edition of Nation Branding: Concepts, Issues, Practice has been published by Routledge. The companion website to the book features instructor aids such as PowerPoint presentations for each chapter and an instructor manual. Complimentary exam copies for consideration for course adoption can be ordered from the Routledge website.
Praise for Dr Keith Dinnie's book Nation Branding: Concepts, Issues, Practice, 2nd Edition:
"I strongly recommend this book as essential reading for academic researchers, students and practitioners in the broad fields of place branding and marketing. It is written in a readable style based on state-of-the-art theory frameworks by one of the foremost experts in nation branding. The book is packed with contributions, insights, practical examples and up-to-date case studies from around the world."
(Professor Charles Dennis, Professor of Marketing and Retailing at the University of Middlesex and Director of the International Colloquium on Place Brand Management)
"In the Second Edition of Nation Branding, Keith Dinnie has advanced the conversation on branding countries in a number of interesting ways. By engaging the perspectives and experience of an eclectic group of international academics and practitioners he provides one of the most insightful treatises on the subject to date. This new edition will enable readers to explore new theories, concepts and frameworks to shape nation branding."
(Bill Baker, author of Destination Branding for Small Cities)
"This book provides a modern overview on nation branding; its roots, challenges and links to public diplomacy, and soft power concepts. It is a must read for both academics and practitioners dealing with country promotion, whether that be in tourism, export or FDI."
(Dr Roger Zbinden, Swiss Business Hub Japan, Tokyo)
"Nation brands, branding and rebranding defined, explored and explained. This book has a solid grounding in relevant theoretical perspectives, is illustrated with well-chosen real-world examples, and benefits from expert contributions. A 'must read' for students, academics and place branding practitioners."
(Dr Heather Skinner, Corfu Symposium on Managing & Marketing Places, Corfu, Greece)
"My practical guide for the last few years. This new edition with revised examples from today's leading experts gives me an added boost in my work. It is an essential read for everyone in the field." (Inga Hlin Palsdottir, Director, Tourism & Creative Industries at Promote Iceland, Iceland)
The book is written for a number of audiences:
• MBA, Masters, and upper level undergraduates studying subjects including but not limited to marketing, branding, international business, public diplomacy, international relations, economic geography, and tourism
• Governments and policy makers, particularly in the fields of economic development, trade and investment, tourism, and public diplomacy
• Individuals with an interest in how their country is perceived and the ways in which their country is (or is not) attempting to enhance its reputation
The second edition has been extensively updated and redesigned, including end-of-chapter discussion questions and new cases on countries such as China, Croatia, Cuba, Finland, Ghana, India, Korea, Malaysia, The Netherlands, New Zealand, Portugal, Singapore, the United Arab Emirates, the United Kingdom, and the United States. Contributors to the book include experienced diplomats, scholars and business professionals such as David Gertner, Thebe Ikalafeng, Nancy Snow, Melodena Balakrishnan, Alan Fyall, Heather Hartwell, Ann Hemingway, Vassilis Kapetangiannis, Joao Ricardo Freire, Efe Sevin, Roger Sinclair, Koh Buck Song, Jian (Jay) Wang, Oliver Zoellner, Mikhail Sadchenkov, C. Min Han, Gil Chavez, Nicholas J. Cull, Eugenio Matos, Brian Sweeney, Bernard Simonin, Gert-Jan Hospers, Robert Govers, Drago Stambuk, Ed Burghard, Andrew Stevens, Nikos Panayiotou, You-Kyung Kim, Maja Konecnik Ruzzier, Marcus Osborne, Teemu Moilanen, Craig Hayden and Terry Behan.
This much-anticipated update to an influential book is an essential introduction to nation branding for students and policy makers.The ICON model presented in this second edition represents a significant new and original tool to guide the development of effective nation brand strategy.